Novum IQ Infusion Platform
REDEFINING THE FUTURE OF INFUSION THERAPY
Bringing together Large Volume and Syringe pumps, IQ Enterprise Connectivity Suite and web-based Dose IQ Safety Software, the Novum IQ Infusion Platform is driving the continuous evolution of smart pump technology. This includes state-of-the-art over-the-air firmware updates and an advanced cybersecurity profile to protect infusion data, while maintaining an unparalleled user experience with the broadest array of workflows and simplified and flexible functionality.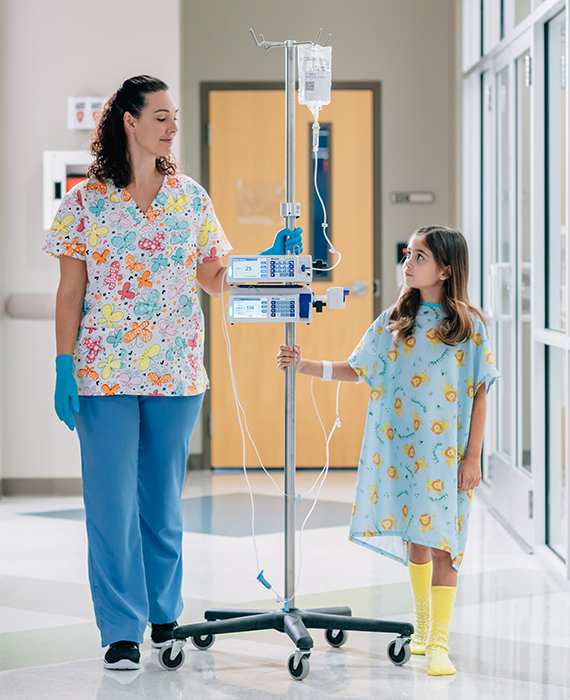 PROTECT MORE INFUSIONS WITH A FULLY INTEGRATED PLATFORM
The Novum IQ platform leads the market in the pursuit of reducing the risk of patient harm, with one-of-a-kind safety features and interoperability across Large Volume and Syringe pumps, streamlined EMR integration and Baxter's leading drug library compliance.
The Novum IQ platform fully integrates with your EMR, adding another layer of safety to infusions and providing immediate, measurable results to health systems. It is also the only infusion system to provide titration error prevention on high-alert medications through Baxter's Dose Rate Change feature, which is designed to intercept manual and auto-programmed dose or rate changes that could be inaccurate and potentially harmful.1
The Novum IQ platform guides clinicians through the infusion process to maximize auto-programming compliance and improve standardization.
On-screen Barcode Technology
Only Baxter infusion systems provide an on-screen barcode with scan prompts to provide safety and efficiency when auto-programming.2
Auto-Programming Workflows
Novum IQ pumps feature the broadest range of auto-programming workflows and feature sets to help drive consistent auto-programming compliance.
Line Check Notification
Only Baxter infusion pumps offer this unique technology, with an on-demand visual indicator to communicate which pump is associated with which medication, designed to reduce the risk of channel confusion when managing multiple IV infusions.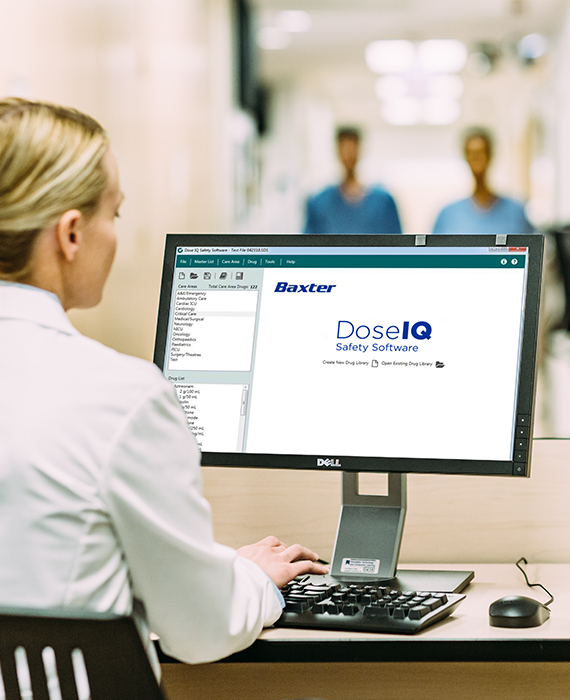 ADVANCING DRUG LIBRARY TECHNOLOGY, SAFETY AND COMPLIANCE
The Novum IQ platform advances drug library technology and compliance through web-based Dose IQ Safety Software, Baxter's patented drug library and dose error reduction system.
Dose IQ software is the only drug library software on the market to provide web-based accessibility, removing the limitations associated with drug library software implementation. It combines the convenience of centralized access to drug library files from any computer on your hospital network, with the flexibility to scale as your hospital system and technology evolve.
Powered by Dose IQ software, the Novum IQ platform empowers clinicians to define infusion drug libraries with confidence and help protect more infusions against patient harm.
The most advanced protection for every infusion
Only Dose IQ software delivers web-based drug library access, titration error prevention, enteral infusion color coding and more to empower clinicians and protect every infusion – from your tiniest patients to your most critical.
Centralized drug library software platform
Dose IQ software is the only web-based drug library software to work across Large Volume and Syringe pump, Drug and Enteral infusions.
Building safety and effectiveness at every step
The easy-to-use interface provides step-by-step, guided workflows, prompting users to the right screen at the right time. Drug library creation is further simplified through standardization in partnership with FDB Infusion Knowledge Base.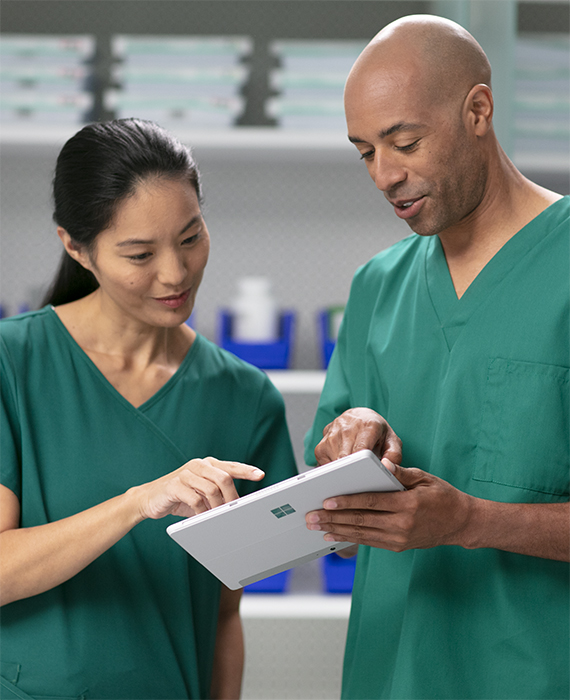 IMPROVE PERFORMANCE THROUGH ADVANCED CONNECTIVITY
The Novum IQ platform, enabled by Baxter's IQ Enterprise Connectivity Suite, optimizes performance throughout your organization, delivering near real-time infusion data between hospital networks, connected devices, and components including auto-programming and auto-documentation, alarm routing, drug library distribution, over-the-air firmware updates and tagless asset tracking.
The comprehensive interoperability provided by IQ Enterprise Suite helps you more easily capture, access and interpret infusion data to improve therapy delivery, improve economic outcomes and help reduce the risk of patient harm.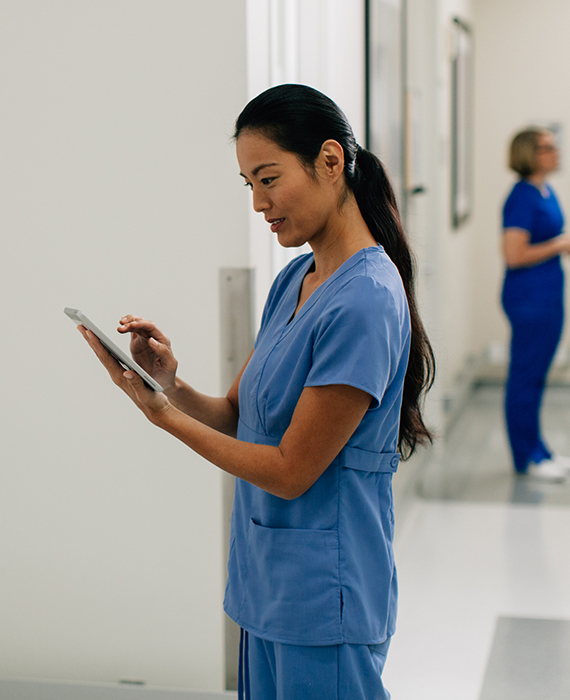 ELEVATE THE OVERALL INFUSION THERAPY EXPERIENCE
Novum IQ pumps deliver one of the simplest and most intuitive user experiences in the market, leveraging the ease and efficiency of a platform that includes a common drug library and a consistent user interface with streamlined workflows across both the Large Volume and Syringe pump offerings.
The Novum IQ platform creates efficiencies in clinicians' daily tasks, allowing them to spend more time where it matters. This includes features such as built-in Tagless Asset Tracking, secondary alarm routing, and auto-documentation that electronically charts infusion data into the patient's record.
The Novum IQ platform empowers pharmacists and clinical specialists to ensure infusions are delivered safely.
For pharmacists
Baxter's proven implementation process provides pharmacists with the training and framework to develop, customize and evolve a drug library to meet their facility's needs today and tomorrow. Initial set-up is supported by Baxter's proven Universal Implementation Process (UIP), which delivers 99% customer satisfaction post go-live.3
For NICU nurses
Novum IQ Syringe pump allows NICU nurses to care for your hospital's most fragile patients, supporting accurate and safe medication delivery through colored visual banners on the screen to clearly identify enteral delivery, and Titration Error Prevention technology when every mL matters.
For anesthesiologists
Novum IQ Syringe pump arms anesthesiologists with the confidence needed in life-saving clinical scenarios, providing flexibility such as configurable Anesthesia Care Area settings for use in the OR. It also enables the efficient initiation of a loading dose, continuous infusion or bolus, without sacrificing safety.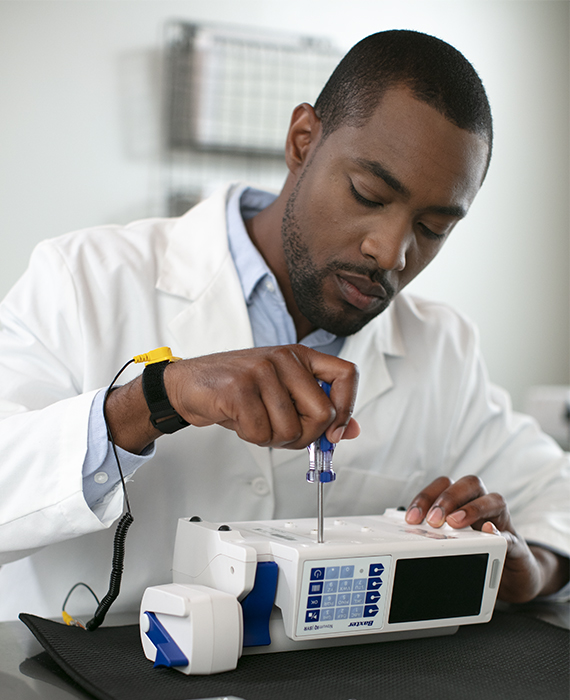 EXPECT A HIGHER LEVEL OF SERVICE AND SUPPORT
With an industry-leading reputation for field serviceability, over-the-air firmware updates and state-of-the-art remote diagnostics, the Novum IQ platform is setting new standards in the infusion technologies market.
Novum IQ helps improve total cost of ownership, maximize pump uptime and support biomeds and IT specialists with an innovative approach to pump design and services.
95% field serviceability
Modular design
Full system self-test
Over-the-air firmware updates
Network configuration file sent wirelessly
Remote troubleshooting and diagnostics
Device failure mitigation through independent channels
One-time clinical software implementation process that delivers a scalable solution
Pump longevity and out-of-the-box service solutions help maximise your investment.
Award-winning implementation and training
Baxter has successfully implemented 500,000 devices4 in the market through our proven Universal Implementation Process (UIP). According to the KLAS Smart Pump 2016 report, Baxter received the highest Quality of Implementation and Quality of Training.5
Reduced maintenance burden
Reduce the time and costs associated with long-term maintenance with solutions such as remote troubleshooting and diagnostics, online parts ordering and easy access to training and educational materials via the online Service Portal.
Enhanced device longevity
Novum IQ pumps offer a 10-year useful life, as well as improved battery life through Novum IQ Smart Battery.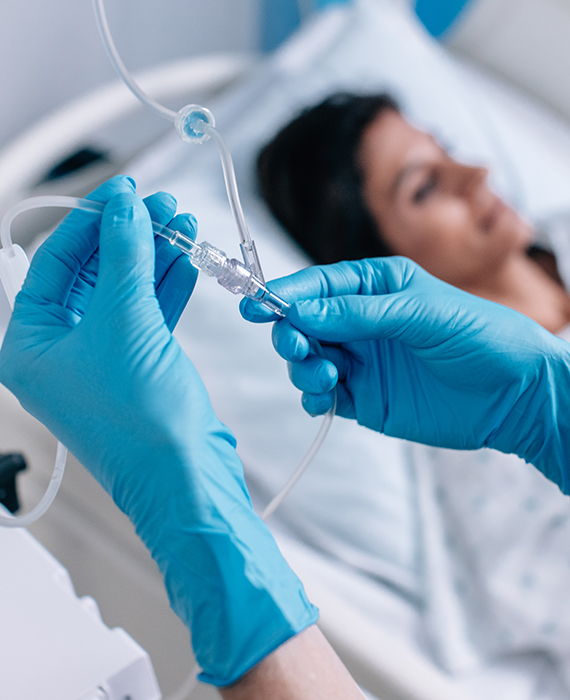 ONE IV ECOSYSTEM DELIVERS TOTAL VALUE
With the Novum IQ Infusion Platform, you have one partner in Baxter for service and integration – and one infusion system inclusive of all pump and ancillary components.
The Novum IQ platform has been engineered to seamlessly integrate our advanced set portfolio, including Standard Set Technology for Novum IQ LVP, and a wide array of syringe sets for Novum IQ Syringe pump.
The Novum IQ Hub Docking Station helps simplify delivery of multiple Large Volume and Syringe infusions, and is built for easy mounting and transportation throughout the hospital.
Proprietary Standard Set Technology delivers efficiency, safety and savings across the Novum IQ LVP fleet.
~7,955
Reducing time for IV disconnects and re-priming can mean an additional 7,955 hours per year for nursing staff to provide quality care for patients*6
11K
There are potentially 11K fewer tubing disconnects per year for the average facility*6
53%
Up to 53% cost savings in IV tubing sets can be realized**7
* Based on one US facility data, March 2011. Data on file. Baxter Healthcare Corporation.
** Data on file. Data provided by three facilities. Baxter makes no guarantee of cost savings.
For safe and proper use of the products mentioned herein, please refer to the appropriate Operator's Manual or Instructions for Use.
Baxter, Dose IQ, IQ Enterprise, Novum IQ and Spectrum IQ are trademarks of Baxter International Inc. or its subsidiaries.